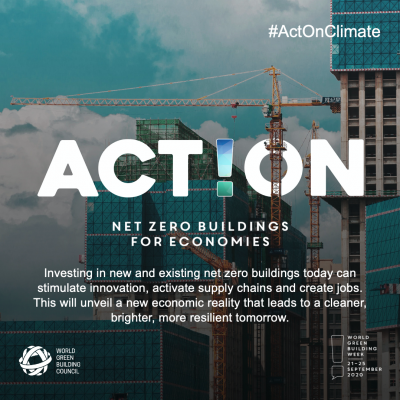 World Green Building Council is calling organizations and companies for building sustainable environment in World Green Building Week from 21st to 25th of September.
This year's campaign theme is #ActOnClimate and it is claiming to take urgent actions for net-zero buildings. The week's purpose is to call the building sector, policymakers, and government to take urgent action to deliver net-zero buildings.
Buildings consume most of the world's energy and they account for more than a third of the world's CO2 emissions. The climate will warm by 1.5 degrees with current carbon emissions even before 2030 and 2.0 degrees by 2035. The real estate and construction sector have a huge opportunity and even an obligation to play its part in curbing climate change.
Accelerating energy efficiency investments will enable urgent actions to be taken to promote zero-carbon buildings. nollaE has a solution for this and we will tell you more about our solution as Week approaches.
During the campaign week, NollaE is involved in making the Week visible by telling about energy efficiency and about the campaign week's theme. Our CEO, Nikolas Salomaa will speak in the opening webinar which will be held in Finnish. Do come and take part in the Weeks's program!
#ActOnClimate #WGBW2020