WE FOCUS ON FINDING THE MOST PROFITABLE ENERGY SOLUTION FOR YOU
Our service is independent of specific devices and systems and focuses solely on optimizing the profitability of your energy-efficiency investment and how it should be implemented. Our solution is always the most profitable one and provides the best return on your investment. 
Towards 

a 

carbon-neutral future with 

the latest 

te

chnology and 

AI
O

ur impartial and unbiased 

recommendations 

are tailored to each individual building 
The most profitable combination of energy efficiency measures for your building

Modeling of current energy flows and use in your building

A preliminary investment plan for implementing the recommended solution 

 Benchmarking of alternative combinations of energy efficiency measures
 Return on investment for the energy efficiency improvement investment

 CO2 emissions and savings for the re-engineered energy flows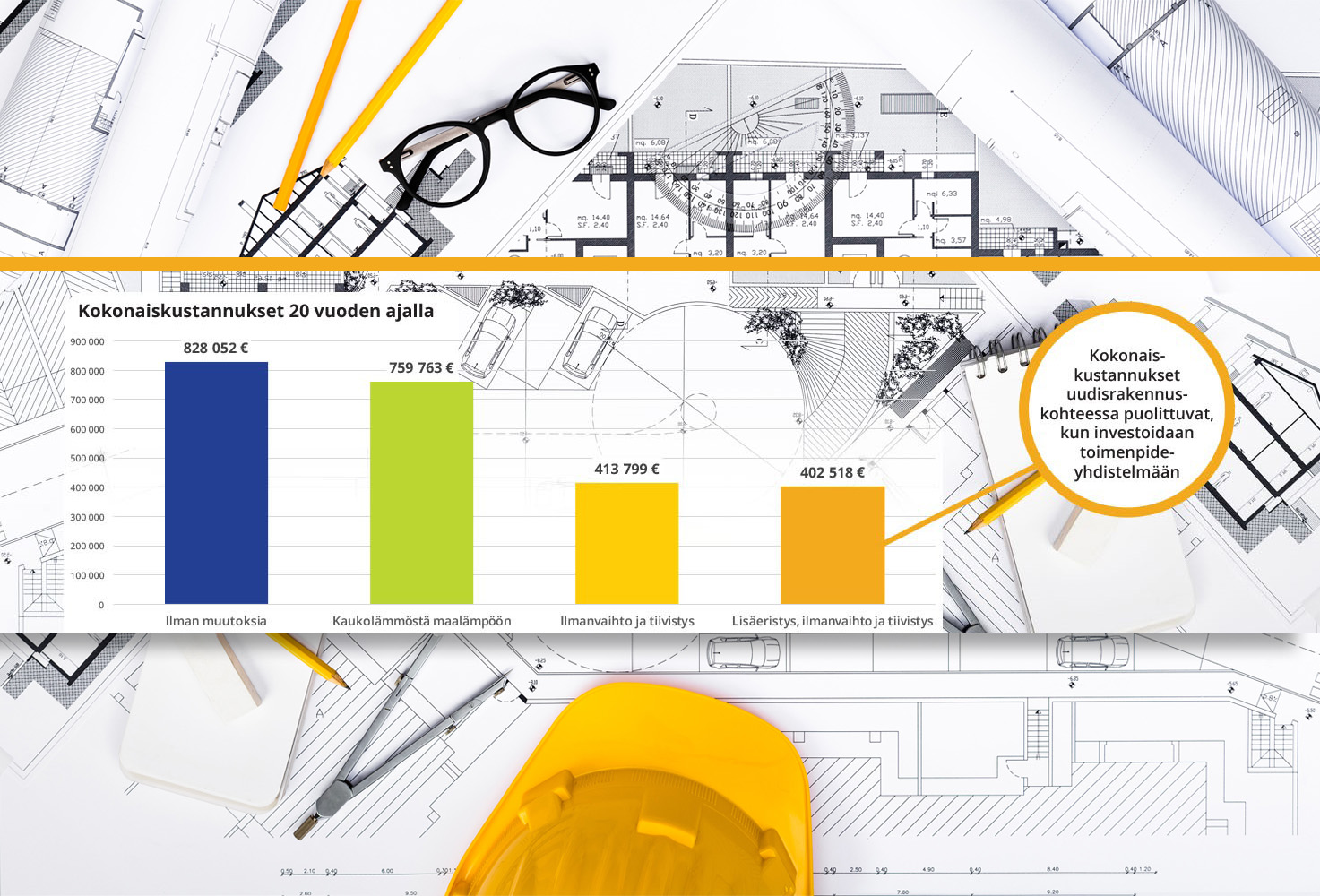 S

imulation 

mod

els

 energy 

flows and use 
Re-engineering of energy flows
The most profitable energy solution and support for decision-making
S

imulation 

mod

els

 energy 

flows and use 
The simulation starts with a comprehensive and detailed analysis of thousands of factors. We want to have a detailed understanding of the individual object so that we will be able to identify the optimal energy solution for it.  
The simulation phase includes a structural review of the building and associated building technology as well as an analysis of its energy usage. The software utilizes dynamic calculations for simulating the energy usage of the building hour by hour to identify exactly how many kWh are used, for what purpose and when. The simulation is a very important step in the process before the optimization itself can be done.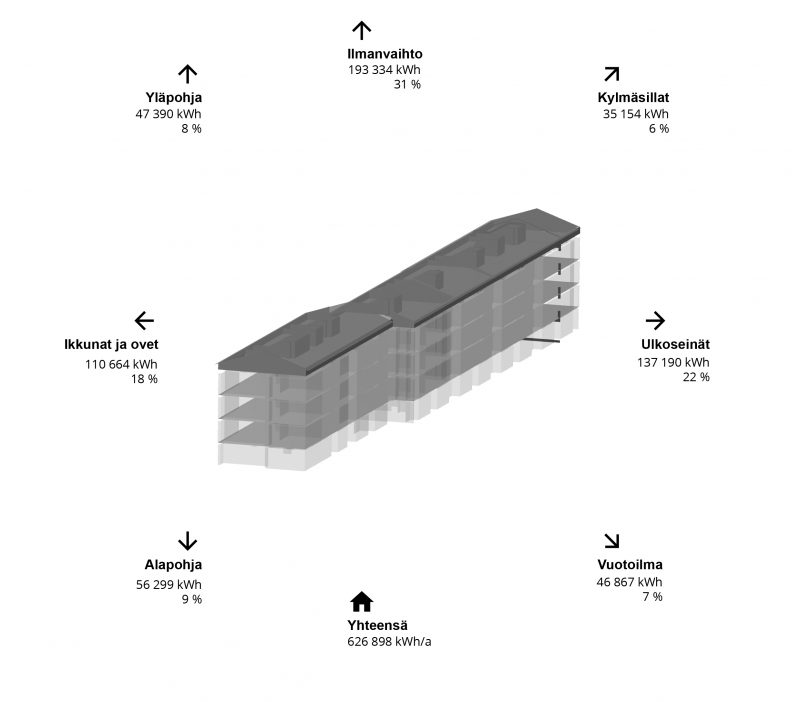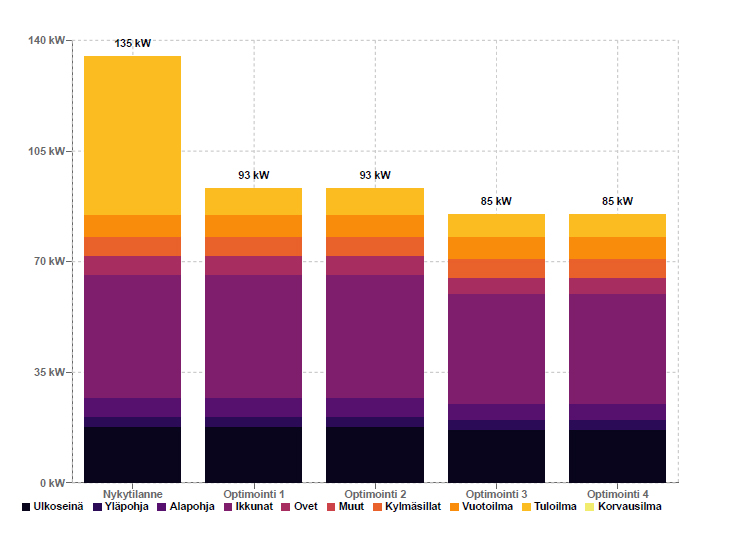 Re-engineering of energy flows

evaluat

es 

thousands of 

measures and 

combinations 
Our proprietary software evaluates all possible combinations of measures to improve energy efficiency for a building and identifies, for example, the five most optimal alternatives for comparison. The identified alternative combinations of measures are comparable against each other, against the current situation of the planned renovation site, or against a potential new planned solution for the site. 
Benchmarking of alternative

s

 

provides 

support 

for making 

decision

s

 
Our reports show the immediate costs and benefits for implementing the alternative combinations of energy efficiency improvements as well as their actual cost savings over time. The benchmarking reports always include comparisons against alternative solutions as well as an cost analysis for the optimal energy investment.  
The alternative combinations of measures can be compared on energy consumption, total cost, payback period of the investment, return on investment (ROI) and yield of the property. The software also estimates annual CO2 emissions and savings for the optimal combination of energy efficiency improvement measures for the building.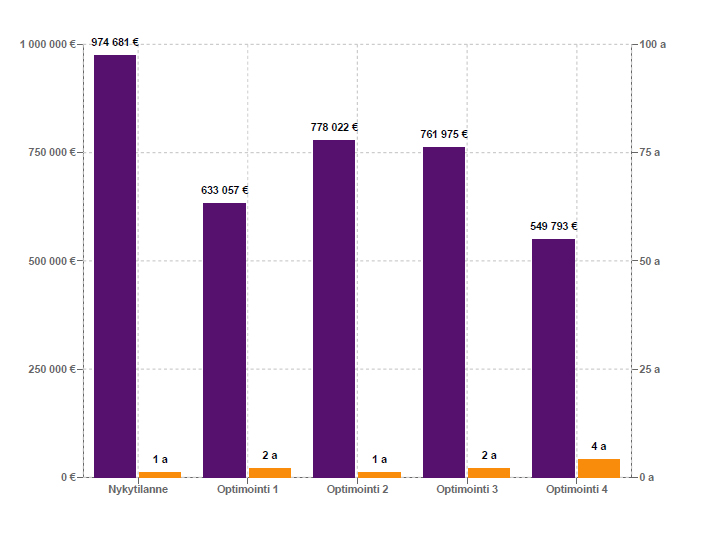 ADDITIONAL SERVICES
In addition to our core service of identifying the optimal energy efficiency solution, we also offer, as an additional service, tendering, project management, HVAC special planning and control as well as monitoring services provided by nollaE or by our partners. 
Surveillance and monitoring services